ISSN 2090-9519 (Print),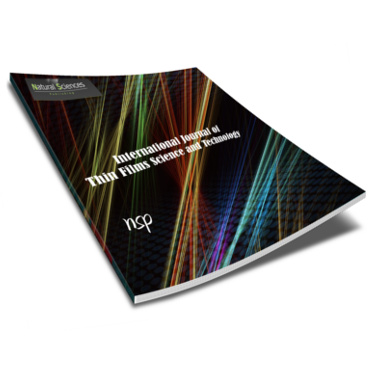 This journal has been moved to Arab Journal Platform hosted by
Digital Commons
International Journal of Thin Film Science and Technology
(IJTFST)
is an international interdisciplinary journal for researchers working in the field of thin films, health Sciences and technology. IJTFST
accepts new submissions in English and Arabic languages,
providing a forum for publishing full-length original research papers, short communications, and reviews that advance the knowledge of all these disciplines. The scope of "Thin Films Science and Technology" covers all types of thin films: conductors, semiconductors, insulators, optoelectronic, ceramic, magnetic, superconductors, polymers, organic, nano-materials and composite films of pure, alloy, mixture, or compound materials. The journal deals with all types of investigations including fabrication, characterization, and applications. While the scope of Health Sciences and Technology, it covers all the disciplines of health including medicine, dentistry, physical therapy, pharmacy and nursing. In this scope, the journal welcomes theoretical or applied approaches, original articles research, case report or article review. All research related to health education, health management, health technologies are covered within the scope of IJTFST accepts papers through peer review by professional colleagues in the relevant fields.
Topics:
Applied Physics

Medicine and Health Sciences

Heat transfer
Nanofluids

Synthesis and Characterization

Health Care Management

Innovation Knowledge Management

Surfaces, Interfaces, and Colloidal Behavior

Surfaces, Interfaces, and Colloidal Behavior

Metallurgical, Protective, and Hard Layers

Mechanics and Nanomechanics of Thin Layers

Electronics, Optics, and Opto-electronics

Magnetics and Magneto-optics

Superconductivity

Langmuir—Blodgett, Biological, and Related Films

Thin Film Devices, Sensors, and Actuators

Condensed Matter Film Behavior.

Physical Sciences and Mathematics

Life Sciences
Plagiarism, or copying text or results from other sources, is unethical behavior and is not tolerated at this journal. All manuscripts will be checked for originality using the CrossCheck database. For more information on CrossCheck please visit http://www.crossref.org/crosscheck.html