ISSN 2090-9616 (Print)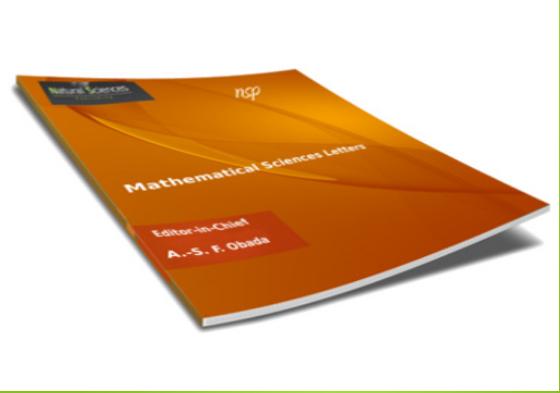 ISSN 2090-9624 (Online).
http://dx.doi.org/10.18576/msl  
Mathematical Sciences Letters provides rapid publication and important but brief mathematical papers. Potential contributions include any work involving a novel application of mathematics, or athematical development in the methodology of other fields such as Physics, Chemistry, Engineering and Computer Science.
The journal publishes 3 issues annually and accepts papers through peer review by professional colleagues in the relevant fields.
In order to be considered for publication, your introduction should clearly explain the novelty, urgency and originality of the research in your article.
Plagiarism, or copying text or results from other sources, is unethical behavior and is not tolerated at this journal. All manuscripts submitted to Information Sciences Letters will be checked for originality. 
Manuscripts submitted for publication must be in English and should be submitted via the web.
To keep the price affordable to libraries and subscribers, we do not send complimentary reprints or complimentary copies to authors. Rather, authors will be given an opportunity to purchase reprints voluntarily at the time of proofreading and will be encouraged to subscribe to the NSP Journals.
Authors are requested to make a payment toward the cost of disseminating their research results. Waivers may be available for certain authors, for example, from low GDP countries or those who, for other reasons, do not have access to funds to cover the fee. Authors can request be free or a waiver on acceptance of their article. The ability to pay does not influence whether or not a manuscript is accepted for publication.  
Plagiarism, or copying text or results from other sources, is unethical behavior and is not tolerated at this journal. All manuscripts will be checked for originality using the CrossCheck database. For more information on CrossCheck please visit http://www.crossref.org/crosscheck.html
MSL has been indexed by several world class databases, such as
EBECO
(EZB) Electronic Journal library
Mlibrary
ProQuest