ISSN 2535- 9798 
http://dx.doi.org/10.18576/ijmmc
Editor-in-Chief: M. A. Fayyad
Frequency: 3 issues annually 
IInternational Journal of Media and Mass Communication (IJMMC)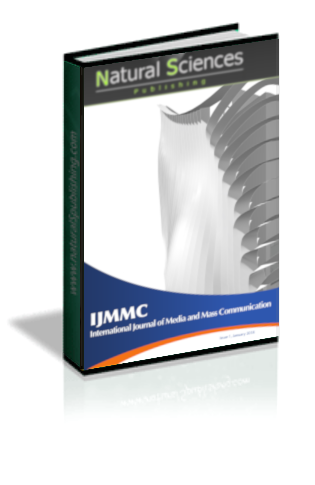 IJMMC is a bilingual journal published in English and Arabic languages. It is a peer-reviewed, double blind journal that publishes original research in the fields of media and mass communications, covering wide area of the fields related to mass communication. Research published in this journal includes empirical, analytical, theoretical as well experimental and case studies on the latest issues in the field. Innovative methodological approached used in the discovery of knowledge are also welcome for publications in this journal.
This journal covers all areas of journalism including letters, editorials and media studies. IJMMC is an open access journal to provide great opportunity for citations of articles to disseminate the articles freely for further research, teaching and reference purposes.
Objectives: This Journal is to publish the most exciting researches with respect to the subjects of Mass communication & journalism including the following but not limited to any other most appropriate writings in the broader filed of broadcast, media and mass communications fields.
Mass communication
Media management
Media laws & ethics
Media and society
Media industry and management
Visual media
Radio journalism
Globalization and mass media
TV journalism and production
Media research studies
Print journalism
Broadcasting
Computer media communication
Electronic journalism
Media and culture studies
Local and international affairs
Original articles
Commentaries
Editorials
Letters to the editors
Review articles and case report describing original research in the fields of communication and media studies.